Cyzap recently teamed with our client, No Frills Supermarkets, to launch a new feature-rich website homepage. The re-designed homepage provides a fresh look and makes use of many of the latest web technologies. The new features now enable No Frills to provide weekly specials, upload YouTube videos with their registered dietician, offer downloadable coupons and showcase their store offerings.

Utilizing ZapSite Express, Cyzap's content management system, No Frills staff members are able to update and change content on the homepage as needed. This allows them to save money and have more control of the website editing process.

A rotating image gallery feature allows No Frills Supermarkets to highlight different areas of interest. Hyperlinks on each image take the user directly to a sub-page with additional information.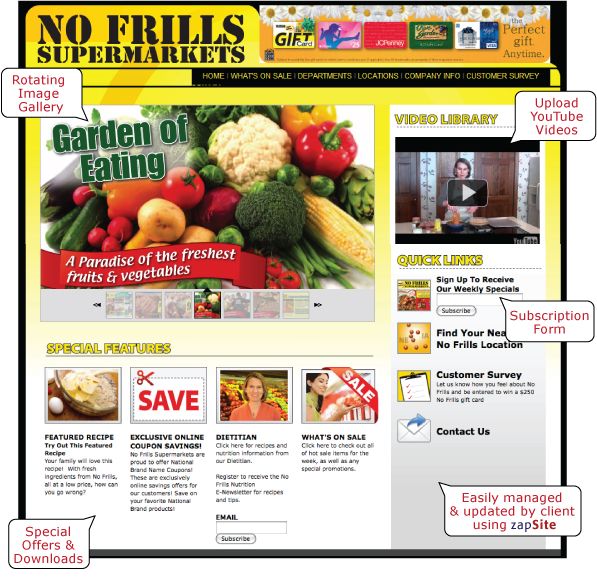 Other new features include access to weekly recipes created by the No Frills registered dietician and a video of her showing the actual preparation. In addition, users can subscribe to an e-newsletter, containing any type of information No Frills wants to convey to shoppers including, healthy recipes, dietary tips, incorporating specials into daily menus, and the weekly store ad.
National brand and store brand coupons are available for download right from the home page. These exclusive online savings fulfill one of No Frills Supermarkets mission statement goals of striving to provide an exceptional shopping experience and to meet the ever-changing needs of customers.
If you would like to learn more about these features, please contact Info@cyzap.com or 402.697.1277.